Hospitality jobs - 2 jobs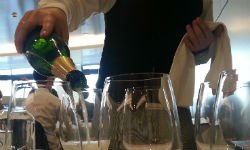 The Hospitality industry is crying out for quality staff, so why stay in a job that you are not happy in when you could achieve your career ambitions elsewhere? Nobody can predict the future, but as time goes on, it looks like now could be one of the best times to make that dream hospitality career move. Whatever your job role, from waiter to restaurant manager... now is a great time to think about taking a step out of your comfort zone and going for a hospitality job that you really want.
Maitre D' – Guernsey – Fine Dining Asian Fusion Restaurant
Hospitality Jobs
|
Area:
Guernsey |
Salary:
£25K - £30K
Job Spec: Maitre D' – Head Waiter/Waitess – Fine Dining Asian Fusion Restaurant – Guernsey An experienced Maitre D' - Head Waiter/Waitress is required for our client a fine dini...
5 Traits Make the Leap Into Hospitality Management
The hospitality industry is currently crying out for good management candidates but that doesn't mean just anyone can walk into a hospitality management job. Check out what we think are the 5 most important personal qualities that are crucial to being a great hospitality manager.