Recruitment Consultant
Here at WestOne we are always on the lookout for energetic and positive people to join the Team!
We offer an AMAZING commission structure, training and guarantee a positive working environment. If you are truly a people person and have a commitment to unparalleled customer service, we want YOU!
WestOne is located in the Heart of the West End and are dedicated to providing the best service to both internal and external clients alike. We offer:
Central Location
Warm Desk
Career Development
Regular Salary review
Dress down Fridays
Great Incentives on top of commission inc evenings out
Temporary  Recruitment Consultant –Hot desk
WestOne is on the lookout for a recruiter to join their Temporary division!
Working amazing hours (9am – 6pm) Monday to Friday you will get all the satisfaction of being a consultant whilst working with a ridiculously supportive team and London's finest establishments!
As a Temporary Recruitment consultant, you will manage your own desk which from day 1 you will earn commission on and continue to grow both yourself and your commission package!!
WestOne offers pretty unbeatable commission term's, Amazing Client and Candidate relationships and an open and honest booking process which is why we are the 'go to' boutique Consultancy of choice
Excellent Salary packages
Uncapped Commission
Immediate start
Monday – Friday
Pension contributions
Ongoing incentives
Why Work For Us?
West One Hotel & Catering Consultancy is recognized as one of London's leading boutique Catering & Hospitality agencies.
We have a good reputation for supplying quality permanent and temporary staff, which is down to the consultants who work for us.
We seek to employ the most talented and committed individuals, who want to provide the best and personal recruitment service to our clients and candidates alike.
We are looking for outstanding individuals to join our successful team in the West End. Our consultants all have the knowledge of the catering industry, either as a Chef or front of house, we look for this in all of our new recruits.
Along with the knowledge, you will be passionate, enthusiastic and possess good administration skills.
You will also understand recruitment and ideally have held a supervisory/management position previously.
We offer an individual training and development plan, competitive salary and achievable commission package, along with 20 days holiday plus bank holidays, staff benefits, great incentives and an excellent opportunity to grow with a successful team.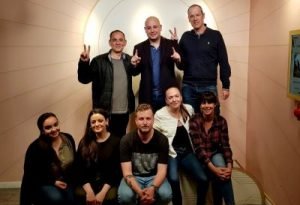 Our benefits;
Excellent commission package
Bonus schemes and great incentives
Personal development plan
Ability to grow and develop within the company
Membership for the Institute of Recruiters
Discounts obtained via the Institute of Recruiters
If you are interested in working for us as a consultant or manager and would like to have an informal chat, then please get in touch.