Sous Chef jobs in West London - 1 job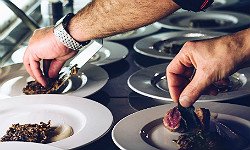 What is the role of a Sous Chef? The Sous Chef is the second in command and direct assistant of the Executive / Head Chef. This person may be responsible for scheduling and substituting when the Executive / Head Chef is off-duty and will also fill in for or assist the Chef de Parties when needed.
Breakfast Chef Job Café Restaurant Fulham £28K
Sous Chef Jobs
|
Area:
West London |
Salary:
£25K - £30K
Job Spec: Breakfast Chef - Café Restaurant - Fulham - £28.000 Our client is recruiting for an experienced Breakfast Chef who will join an amazing and well known Café Restaurant in Fulh...