Hotel & Restaurant Receptionist jobs in Central London - 1 job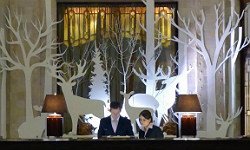 The Receptionist / Host works directly near the entry way and greets customers as they enter and leave. Depending on the type of establishment, the Receptionist can also be in charge of the cloakroom, the switchboard or other tasks related to the reception of customers - taking reservations, answering phones, showing customers to their seats, and providing menus to guests.
Reception Manager – Private members club – Start in May
Hotel & Restaurant Receptionist Jobs
|
Area:
Central London |
Salary:
£25K - £30K
Job Spec: One of the most exclusive Private Members Club in lovely area of Green Park is looking for a professional and experienced Reservation Manager to start at the beginning of May. T...