What NOT To Do In Your Hospitality / Catering Interview
There's lots of advice about what you SHOULD do in an hospitality / catering interview, but… what SHOULDN'T you do?
Don't… Be Late
This should go without saying but you should never, ever be late for an interview. Whether you have missed your bus, there was heavy traffic or there's a Tube strike, there is simply no excuse for being late to an interview because you should factor these sort of things in.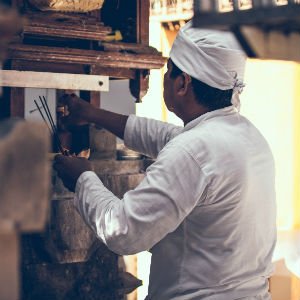 Don't… Dress Inappropriately
If in doubt, always go for formal and wear a shirt and tie or formal business dress. Even if the role you are going for is a Kitchen Porter, no-one ever was denied a job because they turned up too smart. Dressing to impress shows you have made an effort and really want the role on offer.
Don't… Come Across As Arrogant
There's nothing better than getting a candidate that is really confident and such confidence is very attractive and can help an interviewer warm to you. However, confidence can easily slip into arrogance so be very careful that you don't make this mistake.
Don't…. Answer Your Phone or Text In An Interview
This really is just a question of manners. Answering your phone or even glancing at it during an interview is just rude and will instantly annoy your interviewer. To stop any temptation, simply turn it off for the duration of your interview.
Don't… Be Too Familiar
It's great to be chatty personable and friendly but don't be too familiar with your interview. Remember, you are being interviewed for a job, you are not having a chat down the pub so reign it in a bit without coming across as distant.
Don't… Come Across As Disinterested
Did you know that one of the biggest bugbears for hospitality & catering hiring managers is the fact that so many candidates appear disinterested in the job on offer, even if they may not be. Sit up straight, look at your interview and actively listen. Just by doing this, you can differentiate yourselves from many of the other candidates.
Don't… Be Negative About Previous Employers
Even if you have had a nightmare of time with your previous hospitality / catering employer, don't be tempted on being negative about your employer and running them down in the interview. Be honest, explain the situation and then frame it in a positive way by saying how you are looking forward and are hopeful to secure this new role.
Don't… Be Uninformed About the Restaurant/Hotel
It's not difficult to do a little bit of research on your prospective hospitality / catering employer, especially thanks to the internet. Check out their website, check out their competitors and maybe even check out their reviews on Tripadvisor. As well as giving you a flavour of the place, it will also come across well to an interviewer if you can show you have done a little research.
Find out more the dos and don'ts of a hospitality / catering interview.