Don't struggle with restaurant and hotel staffing over Christmas!
Let our Christmas restaurant and hotel temps give you a helping hand.
Christmas is the hospitality industry's busiest period, with restaurants and hotels bursting at the seams with festive parties. It can be an exhausting time of year and it can put a severe strain on your restaurant, especially in terms of staffing. Simply losing a chef or front of house staff member for a few days over this period can leave you really up against it, but it needn't be. Here at West One, we have an extensive number of Christmas restaurant and hotel temps, all of whom are experienced, and have been subject to stringent background and reference checks to ensure their suitability.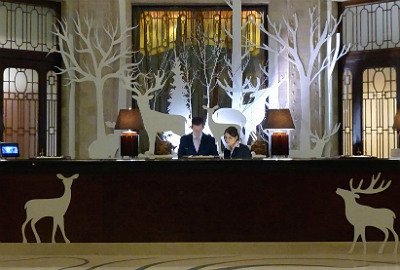 Flexibility when you need it, whatever the role</h2Why use Christmas restaurant and hotel temps?
Flexibility when you need it, whatever the role
At West One we have an extensive database of restaurant and hotel temps that is continually being updated and contains high quality candidates across all roles and available to work across the London area. In terms of kitchen staff, we have kitchen porters, commis chefs, chef de parties, sous chefs and head chefs who have worked at a range of establishments from Michelin Star and AA Rosette Restaurants to branded restaurants, 4/5 star hotels, private members clubs, contract caterers and pop-ups. In terms of food & beverage and front of house staff, we have staff who can cover the full range of roles, from waiting and bar staff to sommeliers, baristas and a whole host of supervisory and management positions. These experienced members of staff can all hit the ground running at your establishment and ensure that your service levels remain as high as ever.
It's a great way of finding permanent restaurant and hotel staff
It's not just at Christmas that it is difficult to find good quality staff. With a skills shortage in the catering industry, it's tough all year round. That's why many of our restaurant and hotel clients across London have found some of their finest staff by first employing them as for example Christmas restaurant and hotel temps. Think of taking a temp on as like a working interview, but a working interview with someone who has been through a number of stringent checks and has been handpicked by ourselves as being highly suitable for your requirements and needs. There really is no better way to bring staff on board that's efficient, cost-effective and virtually risk free.
Perfect for pop-up restaurant!
The London restaurant scene has always been subject to constant change, but the changes have been much more significant over the last few years. It's hard to move in much of London now without coming across some sort of temporary bar or restaurant and their number is growing year-on-year. Fuelled by high London rents and a lack of opportunities for talented chefs to open their own restaurants, these short term temporary restaurant pop-ups are perfect as a way of showcasing their talent and hopefully gaining investment or at least exposure. But restaurant staffing for such short periods can be difficult and that's where our temporary restaurant staffing solutions comes in. If you're looking at opening a pop-up restaurant, we can supply you with a whole range of staff whether you're looking for Christmas restaurant and hotel temps, one staff member or an entire team.
You may never need to use us, but if you do, because we understand you and your restaurant/hotel, we'll be able to act quickly and efficiently to provide you with a high quality temporary member of staff. This will enable you to offer your customers your usual high quality standards of food and customer service.
Discover more about our specialist Temporary Catering & Hospitality Staff Recruitment Division
Call us today on 020 3196 2104 and we can with our skilled and reliable Christmas restaurant and hotel temps.