5 Reasons Why Work In The Hospitality Industry
Are you considering a career in the Hospitality Industry and why you should? Maybe it's the first steps towards a career or maybe you are wishing to switch from another industry. Regardless of your background, a career in hospitality can be immensely rewarding in so many ways. There's never been a better time to enter the hospitality industry and opportunities abound at all levels. Below we take a look at 5 reasons why now is a great time to work in the hospitality industry.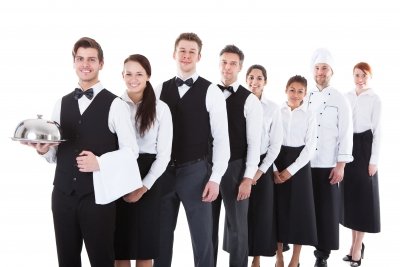 1. You'll never be out of work
The job market has never been more unstable in the UK but whilst many other industries are contracting, the Hospitality Industry is becoming bigger every year and requires more and more hospitality staff. That means, hospitality is one of the safest career choices that you can make!
Check out how both hotels and restaurants have been expanding in the last few years (data only available up until 2014):
Hotels
2009 - 254,303
2014 - 281,311
An increase of 11%
Restaurants
2009 - 620,424
2014 - 803,638
An increase of 30%
2. There's a variety of roles in hospitality to choose from
The Hospitality Industry offers a wide range of opportunities. As well as chefs and waiting on staff, there are concierges who are the 'face' of a hotel, sommelier's who are restaurant wine experts and a wide variety of other roles such as receptionists and managers, all of which have customer service as their focus. There's chance to move between roles too which can ensure you have a varied career and never get bored.
3. Working in hospitality is fun
OK, we're not saying that working in a restaurant or hotel is one long pleasurable experience. Hours can be long and the work can be tough. But working in London, one of the world's most exciting cities lets you experience a whole world that you may never, ever see in a run of the mill office job. What other job could see you meeting and greeting celebrities for example, or even royalty? Added to this you're likely to be surrounded by a fun, bouncy team. This is because hospitality employers tend to hire people who have great energy in order to ensure their customers are happy too. There's a real buzz about working in hospitality and once you've experienced the fun, you'll never want to work in any other industry.
4. In hospitality You'll never have two days the same
Because the hospitality industry is all about people, you'll never have two days the same. You may be working a variety of shifts or even at different locations but whatever you do, you'll always have a constantly changing variety of people to serve and help. If you are a real people persona and love a job with variety then hospitality is a great career choice.
5. In the hospitality industry you can travel the world
The skills you learn in the hospitality industry in London are transferable all over the world, That means you could one day work on a cruise ship or in any other country on the planet. The skills you learn can be used anywhere as a job in the cruise industry is your passport to the big wide world.
There are always opportunities if you've got hospitality experience!
As we mentioned above - these are only 5 reasons why you should work in the Hospitality Industry - there are so many other wonderful reasons!
If you want to take the first steps into a career in hospitality, get in touch with us today. Whether you have experience or not, we will try and help you into a role and introduce you to the wonderful word of the hospitality industry.