Sushi Chef jobs in Central London - 1 job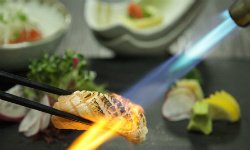 What is the role of Sushi Chef? Sushi Chefs are trained in Japanese cuisine and prepare different kinds of sushi rolls most commonly in specialised sushi restaurants. Sushi Chefs are also responsible for preparing sushi and sauces, selecting ingredients, storing food, maintaining supplies, creating menus, training staff, and designing sushi plates.
Chef de Partie Sushi Section
Sushi Chef Jobs
|
Area:
Central London |
Salary:
£25K - £30K
Job Spec: An Experienced Sushi Chef is needed for an AMAZING client in the Heart of London! The Sushi Chef will work in part of a Michelin team serving 18 to 60 customers a day!! Previ...