Kitchen Porter jobs in Central London - 1 job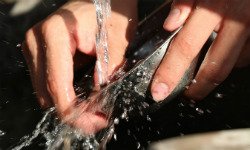 What is a Kitchen Porter? A good Kitchen Porter is the unsung hero of the kitchen, without the Kitchen Porter a kitchen can come to a standstill.
The Kitchen Porter is responsible for cleaning the dishes and cutlery used during the service, as well as all the equipment used in the kitchen (pots, pans, ovens, etc.)
The Kitchen Porter also cleans the kitchen and wash up area and ensures the removal of garbage.
When there are no dishes to clean, the Kitchen Porter can help the kitchen with small preparations such as peeling and putting the deliveries away.
Full-Time Kitchen Porter – Immediate Start – Oxford Circus
Kitchen Porter Jobs
|
Area:
Central London |
Salary:
£8 - £10
Job Spec: We have a great opportunity for a passionate, reliable and hard working Kitchen Porter, who will join our client's Grab'n'Go restaurant operation based in Oxford Circus. The grab'n...