As Assistant Branch Manager of West One my job is never dull, full of lively characters and even better clients!
We had the pleasure this week to go to Rib Room in Knightsbridge to sample their new pop up Cuban theme running until the end of August. Fabulous twists on classic cocktails with an amazing selection of Bar bites to match that Simon Young and his team put together.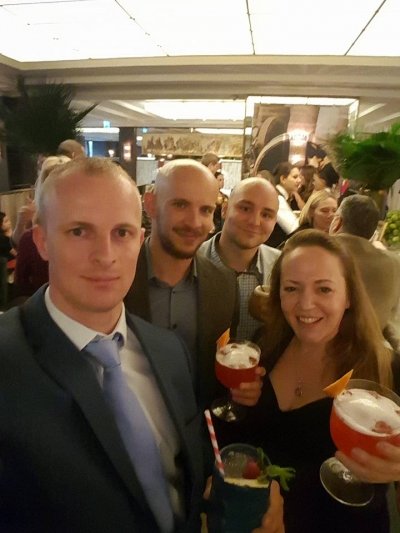 On arriving we were greeted by live music that was well in keeping with the theme and was a combination of well-known songs that had been given a very classy Latin American angle as well as a lovely hostess with a fabulous smile that really did make you feel at home.
Making our way down the stairs, the extensive Marble bar had 3 Cocktail bar tenders already in full swing and on further observation were mixing in time with the music which showed that they enjoyed being there as much as we did. The team and I ordered an 'Old Cuban' which was an ode to the classic Champagne cocktail using the finest Bacardi, lime juice and a hint of sugar, 'Papa was Right' was an obvious choice due to the addition of pomegranate and maraschino and just for the name as it is something as a child you never thought you'd hear yourself say. It didn't disappoint and Papa on this occasion was soooooo right! Lastly you can't have a Cuban/Rum orientated pop up without some form of the cheesy classic Pina Colada……….their version was oh so on point. With guava juice and Bacardi Carta Ora it went down a treat.
With drinks in hand we had a look over the bar bites and ordered Beef empanadas and the Cuban sandwich, once again The Rib Room didn't disappoint, seasoned beautifully the beef melted in your mouth and was nicely off set with its crisp coating, the spiced pork and ham in the 'sandwich' which was more a slider was expertly put together.
Over all Francisco De Lima and his team alongside Simon and his have pulled off a fabulous summer offering to London that, fingers crossed, can be enjoyed on their terrace British weather permitting!