Sous Chef jobs in Slough - 1 job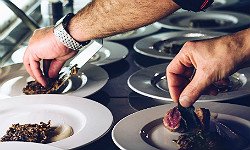 What is the role of a Sous Chef? The Sous Chef is the second in command and direct assistant of the Executive / Head Chef. This person may be responsible for scheduling and substituting when the Executive / Head Chef is off-duty and will also fill in for or assist the Chef de Parties when needed.
Events Sous Chef – £30k – 9am – 5pm
Sous Chef Jobs
|
Area:
Slough |
Salary:
£30K - £40K
Job Spec: I am currently looking to hire a Sous Chef for an events company in Maidenhead for £30,000 a year who has a background of fine dining &/or banqueting. 10-year-old event compan...