Sous Chef jobs in Hertfordshire - 1 job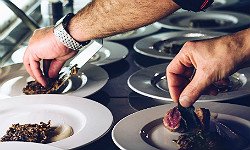 What is the role of a Sous Chef? The Sous Chef is the second in command and direct assistant of the Executive / Head Chef. This person may be responsible for scheduling and substituting when the Executive / Head Chef is off-duty and will also fill in for or assist the Chef de Parties when needed.
Junior Sous Chef Job – Stevenage – 4* Hotel
Sous Chef Jobs
|
Area:
Hertfordshire |
Salary:
£25K - £30K
Job Spec: We have a great opportunity for a passionate and hardworking Junior Sous Chef, who will join our client a 4* Hotel in Stevenage. The Junior Sous Chef supervises day-to-day kitch...