Pastry Chef jobs in South East London - 1 job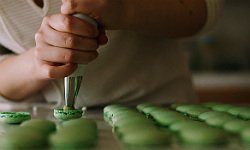 What is the role of a Pastry Chef? Pastry Chef's are responsible for supervising the daily operations of the bakery and pastry sections of a kitchen. Their role requires understanding and utilisation of modern and traditional techniques to prepare sweet and savoury goods, including pastries, cakes, cookies, pies and breads.
Pastry Commis Chef – Vauxhall – Production Kitchen
Pastry Chef Jobs
|
Area:
South East London |
Salary:
£20K - £25K
Job Spec: Pastry Commis Chef Job - Production Kitchen - Vauxhall Our client an exclusive Private Members Club is currently looking for an experienced Pastry Commis Chef and to work at the...