Head Chef jobs in Warwickshire - 1 job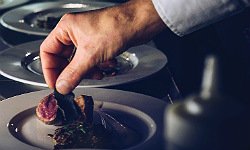 What is the role of a Head Chef? A Head Chef is in charge of all things related to the kitchen which usually includes menu creation; management of kitchen staff; ordering and purchasing of stock and plating design. Chef de cuisine is the traditional French term from which the English word chef is derived. Head Chef is often used to designate someone with the same duties as an executive chef,
Head Chef British Gastro Pub up to £40K
Head Chef Jobs
|
Area:
Warwickshire |
Salary:
£40K+
Job Spec: Head Chef - British Gastro Pub - up to £40,000 salary We have a fantastic opportunity for a talented and passionate Head Chef to join a new gastro pub inn Warick. You will b...