Chef de Partie jobs in Buckinghamshire - 1 job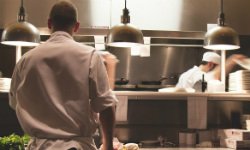 What is the role of Chef de Partie?
A Chef de Partie is in charge of a particular area of production; these are called sections or sometimes known as stations. In large kitchens, each section chef might have several chefs working underneath them. Various names are giving for the section, both in English and French : Saucier (Sauce), Entremetier (Veg), Poissonnier (Fish), Garde Manger (Larder / Pantry),
Chef de Partie 5* Hotel Slough
Chef de Partie Jobs
|
Area:
Buckinghamshire |
Salary:
£15K - £20K
Job Spec: Chef de Partie Larder - 5* Hotel - Slough (Buckinghamshire) We have a great opportunity for a passionate and hardworking Chef de Partie, who will join our client a 5* Hotel and ...