Building Your Brand As A Chef
When you enter the world of catering and set out your goal to become the best chef you can be, you are entering one of the most competitive and hard industries on the planet. There are millions of chefs in the world and if you want to rise to the top and become renowned for your culinary skills, then you have a long hard road ahead of you.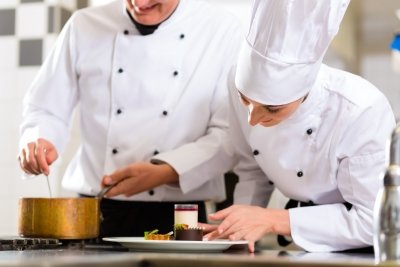 Once upon a time, if you were working in a high profile restaurant in London or another big city you could rely on the strength of your cooking to gain you the recognition you deserve and let that help drive your career on. But whilst that is still of huge importance, today we live in a very different age where you are also expected to diversify how you drive your career forward. Essentially it's all about building your brand as a chef.
What is Your Personal Brand?
Basically, your personal brand is how you market you and your career. It is about identifying and communicating what makes you unique, relevant and different as a chef to potential employers. Faced with a stack of applications from chefs with strong skills, qualifications and experience, it will be those who have distinctive personal brands that will stand out and have the most chance of being shortlisted for interview, or, if you're at the interview stage, being offered the job itself.
"It Ain't Bragging If You Can Back It Up"
This was a quote by Muhammad Ali and it's very relevant to personal branding. Of course you want to impress potential employers on your CV by waxing lyrical about your achievements in catering. But only do this if you can really back it up. Ensure your basic, fundamental skills are all up to scratch and that you are applying for positions that are suitable for your career level. And if you're asked about your achievements, make sure you have the proof available to back your claims up.
Increase Your Social Visibility
It's almost as if Twitter and Instagram were made for chefs there are that many of them on there! Social media is a great place for increasing your visibility in the industry by reaching out to fellow chefs, commenting on industry issues and just generally getting involved with the conversation. As well as increasing your social visibility, think about attending relevant industry events too or even better trying to get involved in some way.
Have a Strong Personal Image
Whatever chef role you are applying for, your visual image is important. It's not about looking good or being fashionable it's about having an image that conveys confidence, efficiency, creativity and that you are serious about making an impact in your new role. If you're doing a trial shift for example, make sure your whites are clean tidy and ironed. It's little details like this that can make all the difference.
Chefs, by taking control of your personal brand, it can really help you take control of your career.